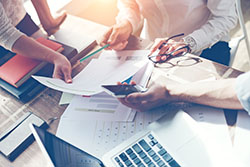 Research is a key component to the training in the Health Track, and students are continually involved in research throughout the program. Specific requirements are completion of a Master's thesis prior to seeking candidacy for the Ph.D., and completion of a dissertation.  Please see the Faculty Research section for descriptions of faculty research activities, and below for general content areas as well as websites for a selection of our research labs.

Faculty research generally cut across three overarching health conditions: Cancer, HIV/AIDS, and Cardiovascular Health / Metabolic Conditions (Diabetes). Health disparities is a key component to much of the research – be it racial/ethnic or sexual/gender minority diversity issues in health psychology.
Cancer Research: The Department of Psychology, in close collaboration with the Sylvester Comprehensive Cancer Center, conducts behavioral oncology research within a diverse and broad scientific portfolio of cancer-related studies which include: biobehavioral oncology mechanisms, psychosocial interventions, caregiving, comorbidities in cancer, and technology-based and electronic medical record (EMR) integrated assessment and intervention tools for symptom and toxicities management. Most work emphasizes health disparities, sociocultural and biobehavioral approaches, translational and dissemination/implementation science in cancer care delivery, and takes place in multidisciplinary collaborative projects within and outside of the University of Miami.

Cardiovascular, metabolic conditions, and additional health concerns for Hispanic/Latino populations. Members of the faculty study a variety of psychological variables related to cardiovascular, metabolic, and related health concerns both with respect to prevention, epidemiology, and treatment. The Hispanic Community Health Study / Study of Latinos (HCHS/SOL), for example, is a major research component of the program, and is multi-center epidemiologic study in Hispanic/Latino populations to assess the role of acculturation in the prevalence and development of disease, and to identify factors playing a protective or harmful role in the health of Hispanics/Latinos. University of Miami is one of the founding collaborating institutions, with multiple and continuing ancillary studies. Web site: Click Here.

HIV related research: Active HIV behavioral science research labs investigate psychosocial (psychological, structural, behavioral) components of HIV prevention and care locally and globally. Given the disproportionate rates of HIV in S. Florida in general and Miami in particular, a focus on the local epidemic, health disparities, and resilience in various populations (men who have sex with men, women living with or at risk for HIV, men affected by the epidemic) are strong components, and community engagement is key.